One Act Musical Adaptation — Single Set — 11 Boys, 9 Girls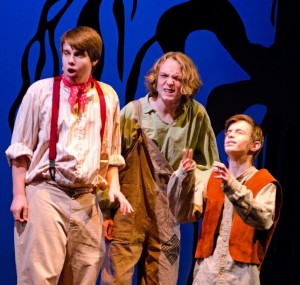 Description: Tom and Huck become best friends as they find trouble, adventure and treasure! This play is a musical adaption of Mark Twain's The Adventures of Tom Sawyer.
Commissioned By: Steppingstone Theatre for Youth Development
Music By: Gary Rue
Photo courtesy of Steppingstone Theatre for Youth Development, St. Paul, MN.
Synopsis: It's not that Tom Sawyer means to do wrong, he just has a lot of imagination and gets fidgety. And that leads to a lotta adventures in this small Mississippi River town, like when Tom and Huck Finn turn pirate and escape to Jackson's Island, or when they go to a graveyard and see a horrible murder, or when Tom and that there new girl he really likes, Becky Thatcher, get lost in a cave. Oh, and the whole story gets rolling when he convinces other kids to whitewash the fence fer him, and they give him stuff for the privilege (including a dead rat)!
Why It Was Written: Each winter I pick a classic author to read, and Mark Twain was my author of choice one season. So when Richard Hitchler, artistic director of Steppingstone Theatre, asked me that year to adapt The Adventures of Tom Sawyer, it was pure serendipity. The book reminded me of my own rural childhood, so some of my background helped shape this stage adaptation. I also collaborated with Gary Rue on the music, and he tapped into American roots music – bluegrass, country, folk – for the songs. We had a terrific time developing the book and music together, and Steppingstone mounted a terrific production. The whole experience turned into one of the most popular shows I've written.
Read the Article: St. Paul Pioneer Press
Read the First Ten Pages: Script Sample
Theatrical Licensing: www.M4YA.org