Short Film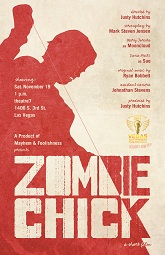 Produced By: A Product of Mayhem and Foolishness
Official Selection: 2011 Vegas Independent Film Festival
Visit VIFF!: Vegas Independent Film Festival (VIFF!)
Description: A Wiccan tries to save her Las Vegas coven by recruiting a young woman who can resurrect animals.
This film is a screen version of Zombie Chick, a short play.
Why It Was Produced: Proof why theatre graduates should stick together, Justy Hutchins and I reconnected over Facebook. She wanted to direct a short film, so I emailed her some short plays. She liked Zombie Chick, I turned it into a screenplay, and she took it from there – filming the actors on a winery in Pahrump, NV. We submitted it to the Vegas Independent Film Festival, and it was selected out of a massive pile of entries. During the festival, I sat next to Wayne Newton, saw some female impersonators perform as Dolly Parton, and met a monkey.