Fulll Length Drama — Single Set – 6 Men, 4 Women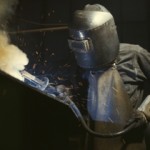 Description: An aging blacksmith must decide whether to stay on his hobby farm or move to an apartment in town – and get one step closer to retirement.
Synopsis: Ernest Johnson is the sole owner and operator of the Johnson Metal Shop in Arton, Minnesota. He's been a blacksmith for almost forty years. But these days, both Ernie and his business are slowing down. His wife Gretchen recently died in a tractor accident. And his daughter Jenna wants him to move from his hobby farm into a town apartment. When Jenna comes this Saturday morning to help him sign the rental contract, she really puts the pressure on him to move. Luckily Ernest is able to stall her off when Randy Stevenson arrives, hot after plow parts. The Zimmermans also show up with a broken lawn mower, giving Ernie more excuses to delay Jenna.
Tough times have hit all of Ernie's patrons. The night before, Randy's son Kim got picked up by the state patrol for reckless driving. Randy sees Jenna as a part of better times and welcomes the chance to restart a romance with her. The Zimmermans are also having a hard weekend as well. Their grandson from the Twin Cities, Tom, is staying with them. Normally this would be a delight, but this is the weekend their son and daughter-in-law are dividing the house to begin their divorce.
Each character is at a crossroads. What connections will they weld and what others will they break?
Why It Was Written: This play is my Master's Thesis work for UNLV's playwriting program, and the full length version was first staged at Brainerd Community College. It began as a series of three short plays that were performed in various productions at UNLV. Since the blacksmith shop from one of the short pieces was a public place, it was a great setting for the other plays.
When the Prairie Wind Players (my hometown community theatre) staged the play, they painted an immense backdrop of the street in front of the old Hoffman Blacksmith Shop – the business that inspired the play. When the curtain opened, the audience always gave a delicious gasp. The blacksmith that owned the shop came to one of the performances too. He had just retired a few years before. The tough guy didn't cry, but he was pretty close.
Read the First 10 Pages: Script Sample