Play Series – Single Set – Cast Size Can Vary – Minimum 4 Men, 2 Women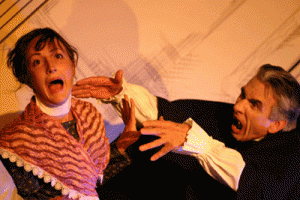 Written By: Mark Jensen, Shanan Custer, John Heimbuch, and Steve Schroer
Commissioned By: Hardcover Theater, Minneapolis, MN
Photo courtesy of Hardcover Theater, Minneapolis, MN
Description: London After Midnight is a unique blend of horror, comedy, historical trivia, and old-fashioned story-telling. Pulp fiction mingles with history in this lurid 19th Century soap opera in five parts.
Synopsis: These five one-act plays mingle characters from penny dreadfuls, better literature, and British history. One main storyline is an adaptation of Varney the Vampyre, the first vampire tale published in English. Other key storylines are about Burke and Hare (serial killers who sold cadavers to doctors), Professor Moriarty (how he became the Sherlock Holmes villain), the Beetle (a woman who can control the minds of men and turn herself into a bug), Sir Robert Peel (founder of the Metropolitan Police Force), and Queen Victoria (God save her).
Other famous characters make cameo appearances throughout the series. Some die, some survive. The plays also incorporate historical "footnotes" that dramatize trivia about the literary (and not so literary) sources adapted for the series.
Why It Was Written: Steve Schroer, the artistic director for Hardcover Theater, came up with this concept of creating a Victorian era pulp fiction play series to stage at the Bryant Lake Bowl (a bowling alley/theatre in downtown Minneapolis). He brought together John, Shanan, and I, and we became a writing team with Steve producing/advising the project.
The first episode debuted at the 2005 Minnesota Fringe Festival, and it was one of the more popular plays that year at the Fringe. We then started a regular three month production cycle to develop the next four episodes. The concept gave us a lot of flexibility, as we could kill off minor characters and introduce new ones. We thought the "footnotes" were too much during the Fringe show, so for Episode Two we didn't use as many, and our regular fans complained! So they became a major part of the remaining episodes — and we added some more for the final draft of Episode Two.
Buy the Scripts: Gumroad.com
Read the First 10 Pages: Script Sample
Theatrical Licensing: Hardcover Theater