Full Length Drama – Single Set –3 Women, 4 Men, 1 Girl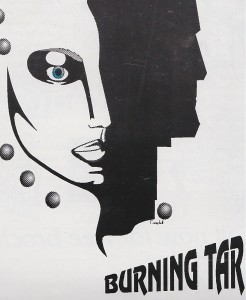 Description: Adult siblings Cynthia and Nathan unsuccessfully struggle to forget their past relationship. When their tensions and passions explode, a horrible, tragic death results.
Synopsis: Cynthia and Nathan took their brother and sister "pretend" kissing practice way too far when they were teenagers. So much so their parents, Joe and Marion, became grandparents to Cynthia's daughter Crystal. After graduation, Cynthia moves into a town apartment with Crystal, working in a gas station to pay the bills. Nathan continues to help his father raise beef cattle on the farm. Everyone works hard to keep their deep secret very secret.
But when Burt, Nathan's best friend, starts dating Cynthia, Nathan lashes out at both Cynthia and Burt. Frustrated, he beats up John, a road worker camping out just outside of town. Cynthia helps bandage John, which enrages Nathan even more.
Joe and Marion try to calm the situation. Marion even suggests it would be good for Cynthia, Nathan, and Crystal to spend a quiet evening together watching a movie, restore some normalcy. But Nathan's passions overflow and he even tells a confused Crystal he's her father. When John shows up with a grateful gift of wild asparagus, Cynthia grabs Crystal and they flee with John to the unfinished new road. While Cynthia and John talk and flirt on the still cooling tar, a distraught Nathan smashes through the barrier with his pickup and accidentally kills Crystal. Overcome with grief, Nathan and Cynthia decide to leave together and restart their lives.
Why It Was Written: One of the best aspects of UNLV's playwriting program is that I could experiment. And be daring. During my last year at UNLV I really wanted to see if I could write a heavy, serious, tough drama, so I started delving into this piece about a normal seeming farm family that had a deep, terrible secret. Each scene had a lot of unspoken subtext and tension. I was definitely channeling influences I didn't normally write from – American Realism, Greek Tragedy, Shakespearean Tragedy. It wrote differently as well, as the story evolved on its own; each scene built organically from the previous one and finally erupted at an extremely tough place. Then the final scene, when Cynthia and Nathan decide to leave and start a life together, that was jaw dropping. I couldn't believe the story had gone in that direction. But it felt right.
My professors really liked it, and Burning Tar was my last full length play staged at UNLV. The production had a terrific cast that put a lot of effort into realizing the piece, and the production felt like an American College Theatre Festival (ACTF) new play contender. Unfortunately the ACTF judges didn't see it that way, so that was the end of the project. Although not quite. The play was nearly produced by a professional theatre company in Los Angeles, but the artistic director ultimately thought the play was too controversial. I still find that pretty crazy I wrote a play that was too controversial for Los Angeles. And to be honest, today the piece does make me uncomfortable now too. But Burning Tar expanded my playwriting tools and voice, and my more dramatic work clearly began with this first effort at a serious, tragic play.
Read the First Ten Pages: Script Sample