A History of Human Resource Innovations at Control Data Corporation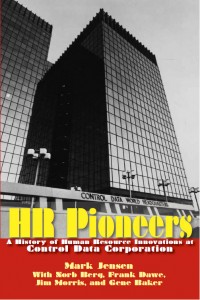 Published By:   North Star Press of St. Cloud
Buy from North Star: HR Pioneers
Buy on Amazon: HR Pioneers
Buy on Barnes and Noble: HR Pioneers
HR Pioneers: A History of Human Resource Innovations at Control Data Corporation recounts the social business ventures and HR initiatives launched by this cutting edge Minnesota company. Starting with Control Data's successful campaign to expand employment to women and minorities, the book explores how this company found new ways to support employees, their families, and at-risk communities. Several of these HR innovations are now considered state of the art business practices by corporations today.
Written in collaboration with former Control Data HR executives Norb Berg, Frank Dawe, Jim Morris, and Gene Baker, the book takes readers through each social business venture from inception to outcome. The book begins with an introduction by Dr. Jay Galbraith, an internationally recognized expert on organization design and president of Galbraith Management Consultants. The book then describes Control Data Corporation's history as a mainframe computer innovator, and how that approach to innovation was applied to the company's HR function. The HR function held a unique, prominent position in the company, and this position helped rank the company as one of the most exciting places to work throughout the 1960's – 1980's. This book is intended for anyone interested in the evolution of current HR practices, corporate social responsibility, and Control Data history.
North Star Press of St. Cloud, Inc. is located in St. Cloud, Minnesota and has been publishing books since 1969. North Star Press is a small press royalty book publishing company focusing on regional books specific to Minnesota, with some books also on Wisconsin, the Dakotas, Iowa, and Michigan. Since the press began, North Star has published over 700 books about the region.
Some Control Data Videos: